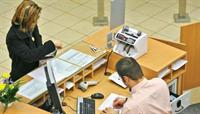 Romanian authorities should "maintain vigilance" over small banks, which are faced with a rapidly deteriorating loan quality and whose provisions are below the system average, the International Monetary Fund said in an analysis.
The local banking system is well funded, with an average capitalization ratio at 14.6% end-September last year, according to the IMF.
Furthermore, the financial stability index is higher than 11% for all banks in the system, three percentage points above the minimum required level.
Read more on Mediafax.ro