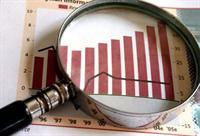 Romania posted the highest inflation in the European Union for the seventh consecutive month in February, while the EU's average rate was stable at 2.8%, statistics office Eurostat said Wednesday.
A year earlier, the EU inflation was 1.5%, the data showed.
Romanian annual inflation reached 7.6% in February, followed by Estonia (5.5%) and Bulgaria (4.9%), while the lowest annual rates were observed in Ireland (0.9%), Sweden (1.2%) and France (1.8%).
Read more on Mediafax.ro