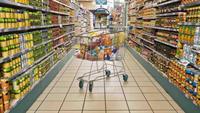 Romanian retail sales fell 9.4% on the year in December 2010, the largest decline in the European Union, official data showed Thursday.
EU's retail sales inched down 0.1% in December compared with the year-earlier month, EU's statistics agency Eurostat said.
Among the member states for which data are available, total retail trade fell in ten and rose in ten. The largest decreases were observed in Romania, Spain (-5.0%) and Malta (-3.6%), and the highest increases in Poland (+12.4%), Latvia (+8.1%) and Estonia (+7.0%).
Compared with November 2010, Romanian retail sales fell 1.1% in December last year.
Read more on Mediafax.ro