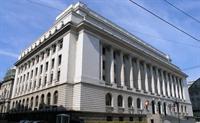 Romania's central bank Thursday left its main interest rate at a record low of 6.25% a year for the sixth consecutive time as it continues to battle a high inflation.
The bank also decided to maintain the current levels of the minimum reserve requirements at 15% for Romanian leu-denominated liabilities and 25% for foreign currency liabilities.
Romanian annual inflation stood at 7.96% at the end of December 2010, well above the central bank's 4.5% upper limit of the targeted interval.
Read more on Mediafax.ro