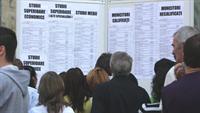 Romania's unemployment rate was unchanged at 7.3% in August, seasonally adjusted data from the statistics institute INS showed Friday.
The number of unemployed people was estimated at 709,000 in August, slightly up from 707,000 in July. Male unemployment rate was 7.7%, while female unemployment reached 6.9%.
The figures are based on the definition recommended by the International Labor Organization (ILO).
Read more on Mediafax.ro