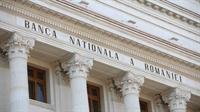 The Board of Romania's Central Bank (BNR) decided on Wednesday to slash the key interest rate from 2.75% to 2.5% as of January 8, according to a release issued.
The BNR also decided to narrow the symmetrical corridor formed by the interest rates of standing facilities around the key interest rate to +/—2.25 percentage points from +/—2.5 percentage points. 'Thus, as of January 8, 2015, the interest rate related to the credit facilities (Lombard) will be reduced to 4.75% from 5.25% per annum, whilst the interest rate for the deposit facility will remain at 0.25% per annum,' the release reads.
The Central Bank also decided the adequate management of liquidity in the banking system and maintaining the current levels of mandatory minimum reserves applicable to credit institutions' liabilities in lei and foreign currency.
Read more on Financiarul.ro