Rewe exits Selgros business. The new order in retail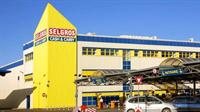 Selgros, the third largest player in domestic retail after Metro Cash&Carry is to exit Germany's Rewe group and will be held, starting January 10, 2011, by Coop, which operates the second biggest supermarket chain on Switzerland's market.
Rewe group has recently announced the sale of its 50% stake in transGourmet Holding, the shareholder of Selgros stores, to its Swiss partners Coop, renouncing thus cash&carry and food service operations.
Read more on ZF.ro