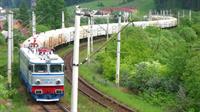 Romanian railway workers have ended their two-hour warning strike Wednesday at 9 a.m. and trains halted during the protest have resumed their routes.
Railway traffic is expected to return to normal Wednesday afternoon.
The warning strike has caused an estimated 100 million lei (EUR1=RON4.1865) loss to the state owned passenger railway company CFR, according to the company's management.
Read more on Mediafax.ro