Radu Ghetea (ARB): Many commercial banks are involved in simulating operations of a bridge bank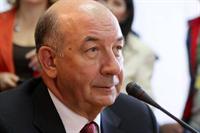 Several commercial banks participate, at present, in a simulation program of the National Bank of Romania (BNR) on the establishment of a bridge bank, but that also means additional costs for the banks said President of the Romanian Banking Association (ARB) Radu Gratian Ghetea.
"The Romanian Banking Association took also note and we participate actively in the simulation program of BNR, in what it means a bridge bank (which would take over bad loans in the case of a bank facing problems – editor's note), to see what bank could be in trouble. It is a pretty difficult process, not easy at all. Several banks are involved in the testing phase ", said Ghetea, who attended the EU-COFILE seminar, organized by Alpha Bank, the National Bank and the Romanian Banks Association in Sinaia.
ARB president appreciated that the BNR approaches related to a bridge bank simulation could generate additional costs for the commercial banks.
Read more on Financiarul.ro