Premier asks ministers in charge to increase tax collections by 1.5pct of GDP in 2 months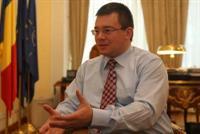 Premier Mihai-Razvan Ungureanu on Friday asked the minister and the other governmental officials with capacities in the tax evasion combat to increase the collection ratio of taxes to the state budget by 1.5 percent of the GDP in 60 days.
"We have at our disposal two important sources for the increase of budget revenues and of the gross domestic product: the efficient access and management of European funds and the tax evasion combat. We have 33 percent of the GDP revenues, under the European average of 40 percent. I demand you that in 60 days your actions of tax evasion combat in the alcohol and vegetal products area, with the observance of the legal provisions, bring to the state budget revenues of at least 1.5 percent of the GDP. You have my unconditional support for implementing the necessary measures for achieving this goal," the Prime Minister said, according to a Government release.
Read more on Financiarul.ro