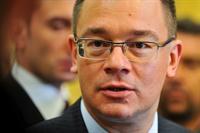 Premier Mihai-Razvan Ungureanu gave guarantees that the European funds for Romania would not be suspended.
'I do not want to think of such a thing for now, because we are doing our best for this thing not to happen. Therefore, I do not presume the worst and I hope this never happens. And I assure you this thing will not happen. At least, for now,' said the Premier, who paid a visit to the building site of the Bucharest – Ploiesti motorway.
Ungureanu admitted, though, that there were "very many problems' and "some of them could be solved.'
'You very well know that, since the beginning of governing, I have stated that the European fund absorption is strategically important to us, therefore, you imagine, we are doing our best in this respect,' the Prime Minister said.
Read more on Financiarul.ro