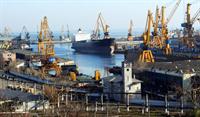 The Mayor of Rotterdam, Ahmed Aboutaleb, argues that Constanta Port is of real interest for the Dutch partners and he wants Rotterdam to have cooperation relations with the largest Romanian port on the Black Sea.
"There can be no competition. Rotterdam competes with ports in nearby countries – Belgium, Germany. Constanta Port serves the Black Sea area and that is why we want to cooperate", said the Dutch Mayor, who visited the Port of Constanta, on board of the protocol ship Anghel Saligny.
According to spokesman of the National Company Maritime Ports Administration (CNAPM) Constanta, Monica Velicu, the Dutch delegation, headed by Mayor Aboutaleb was accompanied, during the visit to the port, by President of the County Council Nicusor Constantinescu, and by the Deputy Mayor of Constanta, Decebal Fagadau.
Read more on Financiarul.ro