Ponta: We will analyse if Romania's accession to Eurozone in 2015 is still realistic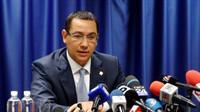 Prime Minister Victor Ponta said Thursday in Brussels that Romania has to make efforts to join the Eurozone, and that it certainly will not take this step before it is ready to do so.
Asked if he intends to amend the decision of the preceding Boc Cabinet that Romania will join the Eurozone on January 1, 2015, Ponta said, 'We will make an analysis jointly with the National Bank to see if this deadline is till a realistic one. Until then, this is the official deadline. I believe Romania has to make some efforts to join the Eurozone. When will that happen? Not before the country is ready.'
'There is a convergence policy drawn up by the Finance Ministry together with the National Bank and we try to meet all those convergence criteria, and not just the nominal convergence, but also, if we can, the real convergence as well,' said Ponta, joking that if his answer is very similar to that of Polish Prime Minister Donald Tusk is precisely because he took a page out of Tusk's book.
Read more on Financiarul.ro