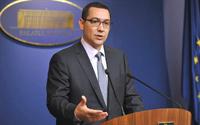 Romania ranks first in the European Union by the cut in the budget deficit, which has been narrowed by 2.5 billion euros, Prime Minister Victor Ponta said on Thursday evening.
"For the first time since 2007, we have met a budget deficit limit at 3 percent of the GDP, thus setting the prerequisites for Romania to emerge out of the excessive deficit procedure", Ponta said at a news conference given at Victoria Palace (the Govt's offices).
Political stability has also helped stabilising the leu-to-the-euro exchange rate, which was lower on Jan. 10, 2013 than in April 2012, the Prime Minister explained.
"I think the stability and predictability in 2013 will help us keep this indicator within the proposed limits too", he added.
Read more on Financiarul.ro