Pavăl, Dedeman: If we had more entrepreneurs, the crisis would not have hurt us this badly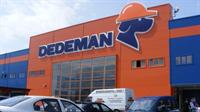 DIY store chain Dedeman, founded by Bacău businessman Dragoş Pavăl, 44, could reach over 300 million euros in turnover this year, considering that the company's owner says the 15% turnover growth target "has long been exceeded".
After a year 2009 with 252 million euros in revenues, Dedeman is set to become the biggest player on the DIY market, leaving Praktiker behind, following an aggressive expansion plan carried out in full crisis. Dedeman has invested around 100 million euros in nine new stores in the past two years.
Read more on ZF.ro