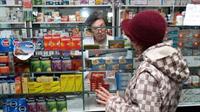 More than half of the 20 best-selling OTC drugs in Romania are used in the treatment of pain or for colds and flu, reveals a ZF analysis based on data provided by IMS Health research firm.
Thus, starting with Nurofen, holding the leading position, and ending with Tantum Verde, ranking 20th, the segment of remedies for colds and flu and pain is clearly pharmacies' most important business.
And the cold weather and temperature fluctuations turn winter months into the best months for pharmacy owners.
Read more on ZF.ro