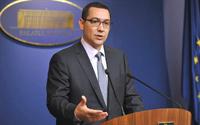 PM Victor Ponta asked the ministers on Thursday at the Government meeting to prepare the budget by January 7, when the delegation of the International Monetary Fund (IMF) is expected to come to Bucharest.
"We meet again on Thursday, January 3 in the first Government meeting in 2013 prepared for the budget, for the IMF. Virtually, after the Government meeting everyone is to work over the weekend through next Thursday. I hope the Finance and those working at the budget to be ahead, meaning that by the time the IMF delegation comes, everyone working should have the budget prepared for January 7," said the PM.
He added that when the IMF delegation are coming, all the ministers must have the budget on 2013 ready and be prepared for the discussions they are going to have with the international partners and the debates in Parliament.
Read more on Financiarul.ro