Over 250 companies from 25 states unveil travel deals at Romania's Tourism Fair this March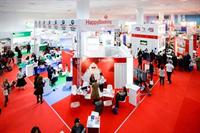 Over 250 companies from more than 25 countries, along with over 50 tourism regions in Romania will attend the Romania's Tourism Fair (TTR) to take place at the Romexpo Exhibition Center of Bucharest March 14-17.
The tourism companies will unveil a wide range of vacation ideas, including adventure travel, cruise deals, exotic vacations, city break offers, countryside vacations, cultural circuits, as well as airplane tickets or travel insurance.
The companies will also launch new programmes, such as city break offers in Romania, senior tour packages, camps for children, exclusive travel experiences.
The visitors and exhibitors will have the opportunity to watch an amazing show that will promote especially the Fashion Summer Festival and the Antic Tomis Festival, the two special events of the 2013 summer season.
In addition, the organizers will stage the Symposium of the Romanian Tourism Employers Federation.
Read more on Financiarul.ro