Orban: Romania, discriminated by an article in Van Rompuy budget linking absorption rate to future allocations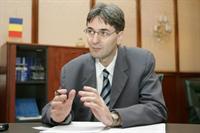 Romania is arguing that paragraph 45 in the draft European Budget proposed by European Council President Herman van Rompuy that sets up a link between the future cohesion policy allocations and the absorption rates for 2007-2011 is unacceptable because it is affecting it, Romania's Minister of European Affairs Leonard Orban said Tuesday in Brussels after a meeting of the EU's General Affairs Council (GAC).
Orban raised the issue at a working dinner on Monday evening on the eve of the GAC meeting, were also attending was President of the European Council Herman van Rompuy, and where all the representatives of the attending member states introduced their positions on the draft European Budget proposed by van Rompuy. 'I raised specific issues facing Romania in relation to the proposal made, in line with the mandate I was given. I very clearly stated that we have two big issues with this proposal,' said Orban.
Read more on Financiarul.ro