Olli Rehn: Romania, one of three evident candidates for exiting excessive deficit procedure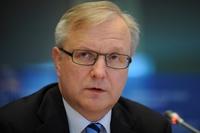 Romania, Latvia and Lithuania are the three obvious candidates for exiting the excessive deficit procedure, European Commissioner for Economic and Monetary Affairs Olli Rehn declared in Brussels on the occasion of the presentation of the EC spring economic forecasts for 2013 – 2014.
"Latvia and Romania have both reduced their deficits below 3% last year, in 2012, and they also stay below the reference value in the forecasts for 2013 and 2014. Therefore, both countries seem to be firmly on track for a sustainable correction of their excessive deficit, and thus for an exit from the excessive deficit procedure," Olli Rehn told a press conference.
"Overall, out of the 20 countries currently in excessive deficit procedure, we could thus have three evident candidates – Latvia, Romania and Lithuania – for abrogating or exiting the excessive deficit procedure, and another two member states – Italy and Hungary – can do it provided that they stay the course of fiscal sustainability.'
Read more on Financiarul.ro