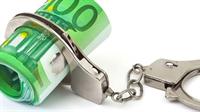 Nearly 80 border police and customs workers have been detained Thursday morning in the Siret customs, one the border with the Republic of Moldova, on cigarette smuggling and bribe taking charges.
Traffic through customs was completely halted.
Anticorruption officers are searching the customs and the detained workers' homes. The workers have been under supervision for six months, people close to the investigation said.
Read more on Mediafax.ro