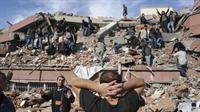 Most insurers on the Romanian market are not prepared financially for a new earthquake like the one in Bucharest in 1977, mainly because of the lack of reinsurance, said Cristian Constantinescu, president of the National Union of Romanian Insurance and Reinsurance Companies (UNSAR).
The share of reinsurance on the Romanian property insurance segment is very low and few insurers have invested in an IT system to allow them to carry on in case of an earthquake or other catastrophic event, said Constantinescu in a seminar hosted by UNSAR.
"Many companies do not cede more than 5% of their property product range to reinsurance," he said.
Read more on Mediafax.ro