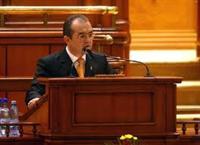 The Ministry of European Affairs will give a boost to EU fund absorption and prevent Romania from losing these funds, therefore the Parliament's vote to create the new ministry is in the country's interest, said Prime Minister Emil Boc.
In his speech in a joint session of the two houses of Parliament, Boc also said the vote is needed in order to allow mayors of all political stripes to implement European projects.
According to his data, applications have been filed for structural funds worth a total EUR56 billion. The total value of contracts approved is EUR21 billion; projects have been signed for only EUR14 billion.
Read more on Mediafax.ro