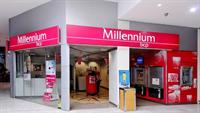 Portuguese Millennium Bank delayed to 2013 the return to profit of its Romanian subsidiary, opened in the autumn of 2007, given that it posted a 24m-euro loss last year.
In RON, the loss amounted to 99m RON, down 38% from the one registered in 2009.
The figure is calculated in line with international financial reporting standards.
Read more on ZF.ro