Major Romanian farmers: Let's start cultivating the 3.5 million hectares where weeds are growing now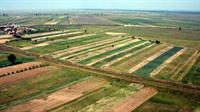 Adrian Porumboiu, Mihai Anghel, Culita Tarata and Stefan Poienaru, four of the biggest agricultural producers, say Romania's chance in the current global context, where prices of agricultural products registered the most spectacular leap of the past 50 years, is to cultivate the agricultural land now full of weeds.
"Romania must come up with incentives to determine farmers to work the 3.5 million hectares of untilled land. Agriculture is the driver of the Romanian economy. The financial, economic and moral crises will be followed by a food and energy crisis," says Culita Tarata, who owns, through the 60,000-hectare farm of TCE 3 Brazi, the largest area of agricultural land worked by a Romanian company.
Read more on ZF.ro