The European Commission does not approve the project for the sale of land to individuals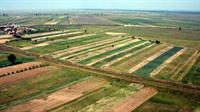 The European Commission does not agree to the project promoted by the Romanian authorities concerning the sale of land to individuals, said Achim Irimescu, secretary of state in the Ministry Agriculture and Rural Development (MADR), and he said that European officials will help us in drawing up a better document in that area.
Achim Irimescu said: "Among other things, we were proposing capping the surface an investor would be allowed to buy at 100 hectares and requiring five years of agricultural expertise. Producers have agreed with us, but the European Commission has a different approach, but it has assured us that we will assist us in drafting up a new version".
The draft law stipulates that individuals will be able to buy plots of land outside the city area only if they provide proof that they have agricultural knowledge.
Read more on Bursa.ro