JusMin Predoiu: Ruling coalition, Opposition must hold dialogue on property restitution issue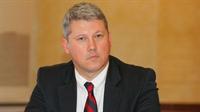 The Government agreed to prolong the public debates upon the property restitution bill, but it will have to sent it as soon as possible to the Parliament, which will have the final say on its normative content, Justice Minister Catalin Predoiu said in an interview .
According to Predoiu, the nearly ten laws adopted in this domain in the last twenty years used different definitions and concepts, leading in the end to a non-uniform jurisprudence. The administrative authorities responsible for applying the law did not make a very good job and have been affected by parasitic phenomena, by a 'retrocession industry' practiced by intermediaries.
'The cases referred to the European Court of Human Rights and the rulings against Romania have multiplied up to the point in which ECHR is in danger to face a deadlock and our budget might run out of the resources devoted to compensation,' said Predoiu.
Read more on Financiarul.ro