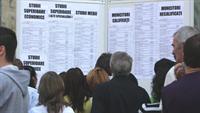 The jobless rate in Romania has slightly increased to 4.83%, but it should not exceed 5% this year, Silviu Bian, president of the National Employment Agency (ANOFM), said Tuesday.
According to Bian, the jobless rate increase is normal in this part of the year considering there are no seasonal work offers and graduates also registered as unemployed.
At the beginning of September, Bian estimated the jobless rate will reach 4.8% by the end of the year.
Read more on Mediafax.ro