Isarescu: Latest inflation developments pave the way for financial stability and economic growth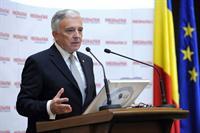 The consolidation of inflation within the variation band around the target paves the way for maintaining financial stability and achieving sustainable economic growth, Governor of the National Bank of Romania (BNR) Mugur Isarescu told a news conference on Thursday.
However, domestic risks related to upcoming elections, along with uncertainties regarding developments in the external environment, capital flows and volatile prices require a further judicious adjustment of monetary policy instruments in order to effectively anchor inflation expectations and ensure price stability in the medium run, added Isarescu.
The annual inflation rate continued to slide, reaching 2.6 percent in February 2012 versus 3.14 percent in December 2011. The annual adjusted CORE 2 inflation rate – calculated by the BNR by excluding administered prices, volatile prices, and tobacco and alcohol prices from the consumer price index – also dropped to 2.05 percent from 2.37 percent in December 2011.
Read more on Financiarul.ro