IMF: We have clear signs growth is resuming. Consumption will rise as well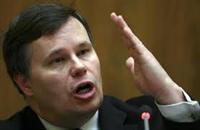 The IMF says the probability of recession returning to Romania this year is very low and expects economic results will confirm the return of growth.
In the last two years, the macroeconomic forecasts of the IMF, the NBR and the Government have not come true, so people are less willing to trust such forecasts.
"We can see clear signs of economic recovery and that growth is returning," Jeffrey Franks, chief of the IMF negotiating mission, said at the end of the first review of the new loan arrangement, under which money is to be drawn only if the crisis returns.
Read more on ZF.ro