IMF Official: Romanian Healthcare Clawback System Hasn't Worked, Copayment Needed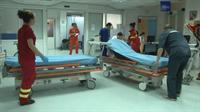 Romania's Government should replace the clawback tax in the healthcare system with a new version and implement the proposal for co-payment as soon as possible, Jeffrey Franks, head of the IMF agreement evaluation mission, told Mediafax.
"There is a proposal for co-payment for certain people and certain medical services and that is pending for two years and that needs to go into effect. There is an attempt to do a clawback tax on pharmaceuticals to try to bring in some revenue and stop overconsumption and it hasn't worked very well so the government has to move very quickly to put in a new version of that tax," said Franks.
Read more on Mediafax.ro