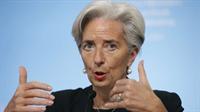 The International Monetary Fund estimates a global economy growth of 3.1 for the next period, IMF Managing Director Christine Lagarde on Tuesday told the conference "Eastern Europe and Romania: The Road Ahead," hosted by the National Bank.
Seen through the eyes of the IMF, this is an economic growth of 3.1 percent. Economy figures have not been positively revised, but they underwent just a minor downward revision, said Lagarde, who is currently on a visit to Romania.
The conference was inaugurated by BNR governor Mugur Isarescu; attending the event alongside Christine Lagarde was Prime Minister Victor Ponta.
There were more than 200 guests in the audience, managers from the banking sector, representatives of the political and academic milieu.
Read more on Financiarul.ro