Hamza Karimov, SOCAR Romania President: We have no interest in Arpechim, Oltchim or Petrom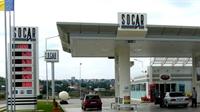 After entering the Romanian market through a surprising acquisition of Romtranspetrol, a distribution company, the Azeri state company SOCAR analyses the market as it awaits new opportunities, SOCAR Romania chief Hamza Karimov said in an interview for HotNews.ro. Karimov said that SOCAR has no interest in Oltchim, Arpechim or Petrom.
Romania is a country close to Azerbaijan, with political relationships at the highest level due to the friendship between the two Presidents and thus the company analyses the market, Karimov said.
Read more on Hotnews.ro