President Iohannis: Romania to seek new ways to energy independence, insist on Schengen membership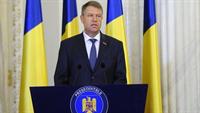 President Klaus Iohannis answered a media question about the South Stream gas pipeline on Thursday by saying Romania will seek new opportunities for consolidating its energy independence and for connecting to the European energy systems.
He specified that his talks with European Council President Donald Tusk and European Commission President Jean-Claude Juncker on Thursday did not cover South Stream, as this was 'a topic closed earlier, not now.'
'Romania's energy independence is one of my concerns, and Romania will seek other opportunities to advance on the path of consolidating its energy independence on one hand, and of interconnecting with the European energy systems on the other hand,' Iohannis said at a joint press conference he held alongside Juncker.
He also announced that he will continue discussions with the European partners in reference to Romania's accession to the Schengen area.
Read more on Financiarul.ro