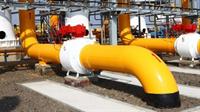 Russian natural gas giant Gazprom delivered 2.6 billion cubic meters of gas to Romania in 2010, up 4% on the year, the group said in a report Thursday.
Romania is Gazprom's fifth largest recipient of gas deliveries in Europe, in a classification led by Poland (11.8 billion cubic meters in 2010) and the Czech Republic (9 billion cubic meters).
Gas imports covered 17.16% of Romania's consumption last year, up from around 15% in 2009, according to data from the energy watchdog ANRE.
Read more on Mediafax.ro