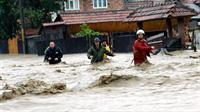 Damages caused by floods in Romania exceeded EUR3 billion in the 2005-2010 interval, Pool of Insurance against Natural Disasters (PAID) general manager Marius Bulugea said Tuesday.
According to Bulugea, about 62,000 homes were damaged by overflowing waters in the above mentioned interval, of which 15,600 were completely destroyed.
The flood relief granted by the Romanian Government exceeded EUR233 million over the past five years, highlighted Bulugea.
Read more on Mediafax.ro