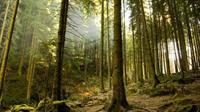 Finnish group Tornator, which holds 12,000 hectares of forest in Romania, has bought a further 500 hectares in Buzău county, in the first major transaction involving forests this year.
"The transaction has been concluded recently," said Zoltan A. Kosy, country manager of Tornator's Romanian division.
He did not provide details on the value of the transaction, but one hectare of forest costs 3,000 euros on average, so the deal involving the over 500 hectares bought by Tornator in Buzău can be put at over 1.5 million euros.
Read more on ZF.ro