Finance minister Gheorghe Ialomitiau: we have no problems to finance the budget deficit. There will be 2,000 lay offs in the system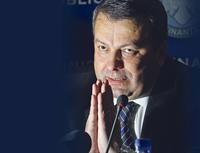 Finance minister Gheorghe Ialomitianu declared on Friday that Romania has no problems to finance the budgetary deficit. National Fiscal Administration chief Sorin Blejnar said that about 2,000 people will be laid off in the system. The personnel that will be laid off can be transferred to another institution, the Finance minister said.
In the same press conference, state secretary Bogdan Dragoi said that since 2009 investors have been interested in the ministry's policies which have been widely appreciated. Blejnar said that 4927 positions will be removed from the system of which 2,000 are occupied so they will be laid off.
Read more on Hotnews.ro