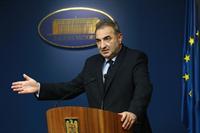 The budget deficit for the full 2012 will certainly meet the target of 2.2 percent of GDP agreed with the International Monetary Fund (IMF), Public Finances Minister Florin Georgescu said on Wednesday.
He stressed the Romanian budget gap will thus be narrowed this year to nearly half the one in 2011, when it stood at 4.4 percent of GDP.
The six-month budget deficit met the target agreed with the IMF, the minister announced.
Read more on Financiarul.ro