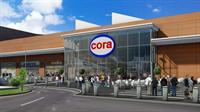 Cora French retailer, present domestically with five hypermarkets, will enter the mall segment by launching Corall project of Constanţa in the second half of 2012, in the wake of 100m-euro investments.
The next two mall projects of French Louis Delhaize, Cora's shareholders, will be built in Braşov and Bacău, but no completion date has been specified.
Cora thus becomes the first food retail player to rival mall developers, a market of over 50 shopping centres.
Read more on ZF.ro