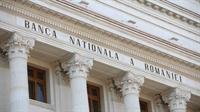 The National Bank of Romania's (BNR) Board of Directors on Thursday decided to cut the key interest rate to 5.25 percent per annum down from 5.50 percent starting March 30, 2012, the BNR has announced.
Other decisions made by the central bank directors on Thursday were aimed at the proper management of the banking system liquidity and keeping the current levels of the minimum compulsory reserve rates applicable to the leu- and forex liabilities of the crediting institutions.
The Board of Directors reiterates the BNR will keep on monitoring the domestic developments and the developments of the international economic environment so as, by the proper adjustment of the instruments it has available, it should ensure the achievement of medium-term stability of the prices and financial stability.
Read more on Financiarul.ro