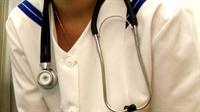 Private medical services operator Centrul Medical Unirea, which also holds Euroclinic hospital in Bucharest, is changing the name of all the facilities it operates to Regina Maria (Queen Mary), the private healthcare network, following a rebranding worth several hundred thousand euros.
This is the first move of this kind on the healthcare market, which approaches half a billion euros per year.
"I would not have agreed to any name other than Regina Maria," said Wargha Enayati, founder of Centrul Medical Unirea (CMU).
Read more on ZF.ro