Budget deficit target to be bln. 8 lei, in Q1 of 2011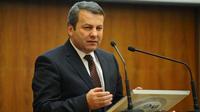 The budget deficit target is 8 billion lei, in the first quarter of 2011, one third of the 24 billion lei deficit, respectively, namely 4.4 percent of the GDP, as agreed with the International Monetary Fund (IMF), for the current year, FinMin Gheorghe Ialomiteanu said.
'I asked a higher budget deficit in the first and the second quarters of the year. In 2010, the budget deficit target for each quarter used to be the annual deficit divided to four. We can engage higher investments in the fist and the second quarter, without altering the annual deficit,' FinMin Ialomiteanu told a news conference.
Read more on Financiarul.ro