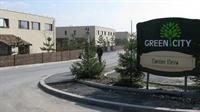 Green City Construct company, controlled by the family of businessman Dumitru Bucşaru, owner of Unirea Urziceni football team, exited insolvency just two months after the Bucharest Court of Law issued a decision in this regard, saving thus the biggest villa project from bankruptcy.
According to ZF information, this is the first and also the fastest legal reorganisation of a domestic company, considering insolvency market players are speaking of reorganisations lasting for three to four years.
Bucşaru built 526 houses in 1 Decembrie locality of southern Bucharest, with 356 houses being raised through Green City Construct, which took out loans of over 100m lei from CEC Bank, with this as the largest house project domestically.
Read more on ZF.ro