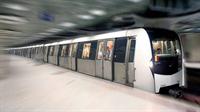 Bucharest's entire subway network, which has 49 stations, will have elevators for people with disabilities by mi-d next year, Transport Minister Anca Boagiu said Friday.
Only 12 stations currently have elevators.
"At the end of last year, we finished installing escalators in all stations and this year we've continued the EUR27.3 million to install elevators," she said.
The minister added 11 more subway stations will have elevators by the end of this year and the rest will be installed by mid-2012.
Read more on Mediafax.ro