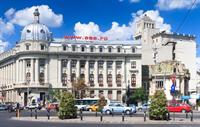 The Academy of Economic Studies (ASE) in Bucharest this week marks a century of existence.
The first institution of higher economic education in Romania – Academy of High Commercial and Industrial Studies – was established on April 6, 1913, by Royal Decree.
In its 100 years of history, the Academy contributed to the shaping of destinies of over 300,000 young people who feel proud of the university they graduated.
Read more on Financiarul.ro