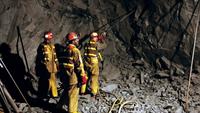 About 5,500 Romanian miners working at National Lignite Company SNLO and thermal power plants Turceni, Rovinari and Craiova might be put on furlough in the next two years, National Union Bloc (BNS) vice-president Ioan Pisc said Monday, after talks with Labor Minister Ioan Botis.
The proposition was put forward by unionists and is included in the mine restructuring program.
Pisc said the measure will help the respective companies reduce costs and added miners put on furlough may be called back to work if companies expand activity.
Read more on Mediafax.ro