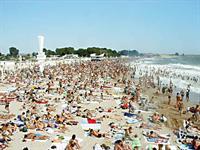 About 20,000 tourists are spending the May 1 weekend, which marks the opening of the summer season, on the Romanian Black Sea coast, according to estimations of the country's tour operators' association ANAT.
"We estimate about 20,000 tourists are sending their weekend at the seaside and most of them have chosen the resorts Mamaia, Costinesti and Vama Veche," said association head Corina Martin.
Romania celebrates Labor Day on May 1.
Read more on Mediafax.ro