About 2,000 professors in Iasi North Romania won in court a 34% raise in salaries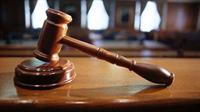 Court decisions allowing professors a salary increase, despite the government's decision to cut salaries are increasing more and more. About 2,000 professors in 50 schools in Iasi, North Romania won a 34% increase in salaries. The decision was given on Friday, June 10 at Iasi and it is definitive and aplicable for 2010 as well.
According to the law, the money will be paid in installments starting 2012. In April the government took responsibility for a law that forbid in 2011 a 33.4% increase in salaries of professors.
Read more on Hotnews.ro