570,000 of unemployed erased from statistics in 2010. Nobody knows what happened to them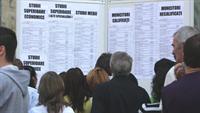 Over half a million unemployed were removed from unemployment statistics in 2010 because they did not renew their job applications with the employment agencies, so they are no longer recorded in the official statistics.
As a result, at least a further 570,000 jobless people are added to the 630,000 unemployed currently receiving benefits.
The former are no longer included in statistics because they do not go to unemployment offices on a regular basis.
ZF for the first time clears up the mystery of the only 7% unemployment in Romania, considering that there are 4.5-5 million employees amid a working-age population of 10 million, so there are 5 million people able to work who are not recorded in any statistics.
Read more on ZF.ro